Graduate Directory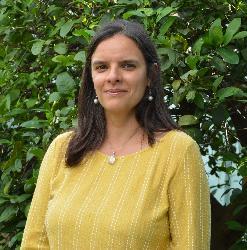 Title
Division Social Sciences Division
Department

Latin American & Latino Studies

Email
Website
Office Location

Crown College Faculty Wing, Crown 213

Office Hours Monday from 10:00 am to noon
Mail Stop Merrill/Crown Faculty Services
Mailing Address

1156 High Street
Santa Cruz California 95064
Research Interests
My research interests focus on a feminist analysis of the agency of women who participate in neo-Pentecostal churches in Costa Rica. The research seeks to understand how neo-pentecostal women both enact and resist neoconservative discourses in their daily lives. I take an approach to study politics from below as a strategy that helps to explain the success of those religious movements in Latin America. Specifically, I investigate the connections women make between social exclusion, poverty, and the doctrine of their neo-pentecostal churches and how they experience a sense of community in their religious participation. Feminist and Community Psychology approaches guide my fieldwork, including semi-structured interviews and focus groups with women actively participating in neo-Pentecostal churches in different communities nationwide. I also analyze religious discourses based on materials distributed by churches and evangelical media that women follow. My fieldwork does not have a community-based interaction with women as an ethical provision to avoid exposing them to conflicts with other members of their congregations, including their leaders. The results of this research contribute to understanding how neo-Pentecostal groups have articulated a strategy that has both transnational and local components to support their conjoin political and cultural project with neoliberalism and the everyday ways in which women navigate neoconservative and authoritarian discourses that have targeted their rights focusing on the narrative of the traditional family.
Biography, Education and Training
Academic Master in Sociology, University of Costa Rica, 2012
Licentiate's Degree in Psychology, University of Costa Rica, 2003
Bachelor's degree in Psychology, University of Costa Rica, 2000
Honors, Awards and Grants
CITL Graduate Pedagogy Fellowship, 2021-2022.
UC Santa Cruz Chancellor's fellowship, 2020-2021.
International Doctoral Recruitment Fellowship 2020-2022.
Selected Publications
Publication from the last five years:
Maroto Vargas, A. (2021). La Familia en Disputa: el caso de Costa Rica, 2000-2019. Revista de Ciencias Sociales, (171), 37–55.
Maroto-Vargas, A. & Carrillo-Valverde, D. (2021). Aprendizaje y retos de la acción social: sistematización de la experiencia de la Escuela de Psicología, Universidad de Costa Rica. Revista Universidad en Diálogo, 11(1) 103-133. DOI: http://dx.doi.org/10.15359/udre.11-1.4
Maroto-Vargas, A., Molina-Fallas, L. & Prado-Calderón, J.E. (2017). Características sociodemográficas y motivos de consulta de las personas atendidas en el Centro de Atención Psicológica de la Universidad de Costa Rica (2004-2013). Revista Costarricense de Psicología. 36(1), 23-44. Available in http://rcps-cr.org/?p=2221
Castillo-Echeverría, C. & Maroto-Vargas, A. (2017). El suicidio desde un enfoque psicosocial y de salud comunitaria: los resultados del diagnóstico en Santa María de Dota, San José Costa Rica. Anuario de Estudios Centroamericanos. 43, 447-472. Available in https://revistas.ucr.ac.cr/index.php/anuario/article/view/28856/pdf_1
Maroto-Vargas, A. (2017). El suicidio en el ámbito comunitario: lineamientos para su abordaje. Revista Reflexiones. 96 (01), 27-39. Available in https://revistas.ucr.ac.cr/index.php/reflexiones/article/viewFile/30630/30505
Castillo-Echeverría, C. & Maroto-Vargas, A. (2017). Los desafíos asociados al uso del enfoque de Salud Comunitaria para comprender y prevenir el suicidio. Miradas sentidas y situadas: experiencias con grupos y comunidades. San José: Editorial de la Universidad de Costa Rica.
Castillo Echeverría, C. & Maroto Vargas, A. (2017). Los alcances de un diagnóstico comunitario sobre suicidio: reflexiones a partir de una experiencia. Revista Latinoamericana de Metodología de las Ciencias Sociales, 7(1), e017. https://doi.org/10.24215/18537863e017
Teaching Interests
Teaching Assistant, University of California Santa Cruz (2021-2022)
LALS 1 - Introduction to Latin American and Latino Studies.
LALS-5 Introduction to Human Rights and Social Justice.
LALS-60 Latin American Childhood.
LALS-100B. Cultural Theory in the Americas.
Teaching and researching, Universidad de Costa Rica (San José, Costa Rica) (2011-2020)
Department of Psychology. Teoría Psicosocial I, Teoría Psicosocial II, and Investigación VIII.
Central American Master in Sociology. Taller de Tesis.
Master Health and Clinical Psychology. Promoción de la Salud y Participación Social