LALS Program News
Welcome to our LALS Program Newsletter! If you have questions or want to tell us about an event, please contact LALS Advising. We'd love to hear from you. We like to highlight news, events, and opportunities from around campus that we think might be a good fit with our students.
In the News
Check out these profiles of Dr. Cinthya Martinez, UC Chancellor's Postdoctoral Fellow, and our new LALS Graduate Program Coordinator, Eric Sneathen!
Read about last week's beautiful and moving Dolores Huerta Research Center for the Americas 30th Anniversary Party and renaming, and our LALS student event with keynote speaker Cristina Jiménez.
You can also consider the origins and usage of Latinx and other terms along with LALS Chair Catherine Ramírez, who is quoted in The Washington Post's "A guide to how words like Latinx and Hispanic came about."
Events & Opportunites
LALS Upcoming Events: Undergraduate Research on Oct 31 & Book Club on Nov 2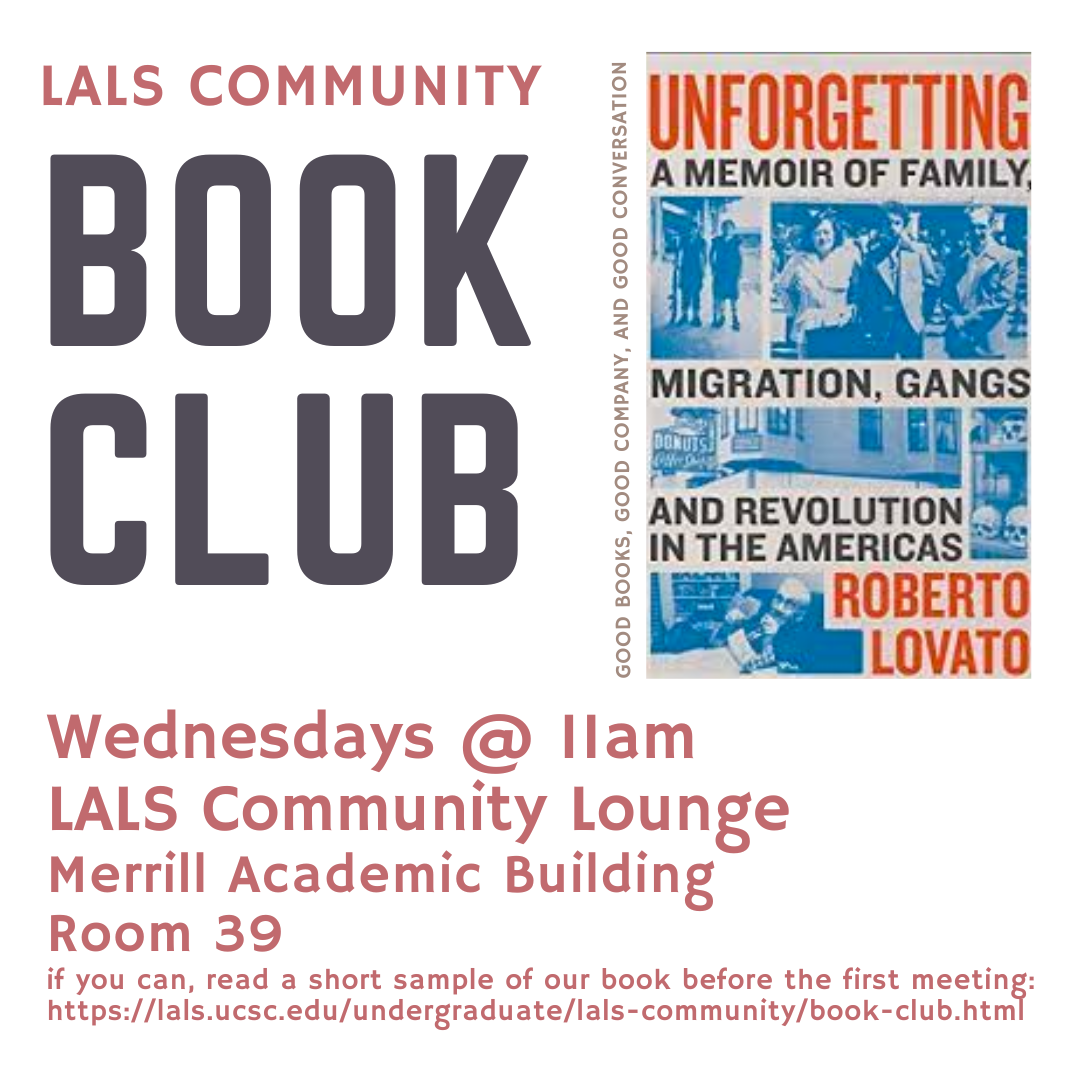 Download the book sample here. Free books provided for book club participants!
Dolores Huerta Research Center for the Americas presents
Tuesday, Nov. 1, 3:30pm-5pm
Location: Humanities 1, 210
*Charla en español*
"Historias de acción: Acción comunitaria frente al racismo en América Latina" con Natalia Barrera Francis"
Wednesday, Nov. 2, 4pm-5:30pm
Location: Humanities 1, 210
"Stories of Action: Community Activism in the Face of Racism in Latin America" with Natalia Barrera Francis
Career Success Events
Get Ready for the Graduate & Professional School Fair: How to Talk to Recruiters

Monday, October 31 from 12:00–1:00 pm
Creating a Plan for Your Pre-Health Journey

Tuesday, November 1 from 12:00–12:45 pm
Graduate & Professional School Fair

Wednesday, November 2 from 11:00 am – 3:00 pm
Thursday, November 3 from 11:00 am – 3:00 pm
In-Person at Stevenson Event Center
There will be various schools with programs in psychology, science, engineering, health professions, law, and more.
Study Abroad applications for 2023-24 are opening soon!
If you are thinking of studying abroad during the 2023-2024 academic year, get ready to apply! Applications for the following program type (and terms) open on November 1, 2022:
University of California Education Abroad Program (UCEAP)- summer 2023, fall 2023, academic year 2023-2024 Click Here to Explore Programs! 
Amah Mutsun Speaker Series
Intercultural Community Weekend - for College 9 and John R. Lewis Students
Not a College 9 or John R. Lewis student? Check out your college website to see what kind of programming they offer!
Indigethanx
Scholarships and Awards
$500 Scholarship for ABC students (first-year, second-year, and transfer students)

The purpose of this fellowship is to provide financial assistance to Black students who are pursuing higher education. To support our pilar of education, iRise is offering two (2) $500 scholarships. For your application to be considered COMPLETE, you must do the following: Register and attend The iRise Wellness Cheat Code Summit and complete the scholarship application. Scholarship applications open June 1st and close November 11, 2022.
UCOP-Black Staff and Faculty Organization (BSFO) Scholarship Application
The Black Staff and Faculty Organization (BSFO) at the University of California Office of the President will offer one or more scholarships of $1,000 to deserving African American and/or African-descent UC enrolled freshman or transfer students who previously participated in a University academic preparation program (EAOP, Transfer Prep, MESA, Puente, etc.). 
Application submission deadline: Friday, December 31, 2022. Application PDF