LALS Program News
Welcome to our LALS Program Newsletter! If you have questions or want to tell us about an event, please contact LALS Advising. We'd love to hear from you. We like to highlight news, events, and opportunities from around campus that we think might be a good fit with our students.
LALS News: Feb 23rd, 2023
Fellowships, Awards, and Research Opportunities
Undergraduate Research Program - applications due March 15!
2023 Summer Introduction to Undergraduate Research Program coordinated by the GANAS Graduate Pathways HSI Initiative. This summer residential program will expose Latinx and other underrepresented students to undergraduate research, graduate school pathways, and careers in academia. 
What: Summer Introduction to Undergraduate Research Program (SIURP)
When: July 9-22, 2023. Application deadline is March 15.
Where: The program will run on the UCSC campus.
Who: Latinx, EOP, and other underrepresented frosh and sophomore students interested in research in the arts, humanities, and social sciences.  
Check out our website to access the application. The deadline for applications is March 15th, 2023 at 3:00pm.
Register for our Virtual Information Session taking place on February 21 from 12:00-1:00
Reyna Grande Scholarship due March 13!
The scholarship is for creative projects—involving arts, writing, music or other creative media work—intended to advance the standing and visibility of Latinx and/or Chicanx communities.
Paid Summer Internship Opportunity - application due March 17!
Labor Summer is a PAID full-time internship with a stipend of $5,000 for graduate and undergraduate students to support students while they are learning organizing and policy research skills and assisting a local union or community-based organization. By the end of Labor Summer, students will have gained valuable research and/or organizing skills that will support their success in the future community and labor-related jobs. This is a great opportunity for graduating students who are ready to work full-time after the program or for students who want to learn more about the labor movement and community-based organizing groups.
If you are interested in participating and want to learn more, apply at https://forms.gle/NDJSEXzNyBfU1qDJA
You can email Rosa Navarro at Rmnavarr@ucsc.edu or Professor Steve McKay at smckay@ucsc.edu for more information.
Applications are due Mar 17, 2023
Fellowships for undergrad research - due March 1!
EFI Frontier Fellowships are designed to support original interdisciplinary research by undergraduates on topics relevant to planning and ensuring Earth's future. Each fellowship carries a $6000 summer stipend for the student plus a $2000 fund to support research expenses and faculty honoraria.
Students will start work in Spring Quarter 2023, work intensively over the summer, and submit their final reports and deliverables in Spring Quarter 2024.
The program is described at: https://earthfutures.sites.ucsc.edu/frontierfellows/
A downloadable announcement document giving details is at:
https://docs.google.com/document/d/127pbqSttkqrXG3x8qckxOw2VoJusEpvd/edit
Students apply by submitting a complete application to earthfut@ucsc.edu by the deadline of March 1.  The application form is at:
https://docs.google.com/document/d/16YcCWqXPYXiksU-3nf7KWOmLNLhHtEAz/edit
Gilman Scholarship - deadline March 19!
Offers awards to Pell Grant recipients of up to $5,000 to help fund study abroad. An additional Critical Need Language Award of $3,000 is available to applicants who will be studying a critical need language abroad.
Deadline: March 19
2022-2023 Deans', Chancellor's, and Steck Undergraduate Research Awards - due April 2!
The Deans and Chancellor of UC Santa Cruz wish to recognize excellence in research and creativity among undergraduate students as evidenced through projects and theses performed in the normal pattern of academic activity at UCSC. Click here to see a listing of current and previous winning projects.
2023 Mellon Diversity in Conservation Fellowship
Calling all current students and recent graduates! 
Are you interested in preserving art and cultural heritage? Come learn about conservation and this upcoming unique and exciting summer program! The Andrew W. Mellon Opportunity for Diversity in Conservation is a program that introduces students and recent graduates from historically underrepresented communities to the field of cultural heritage conservation, a field that engages with artistic and scientific understanding of materials and their meanings to preserve human expressions.
The program includes:
A weeklong summer workshop in Los Angeles, CA, hosted at UCLA and the Getty Villa. June 25- July 1, 2023
Transportation to and around L.A., shared housing at UCLA, all meals during the week
Eligibility for a 10-week paid conservation internship in the specialty of your choice, 2024 (by application, after successful completion of the 2023 workshop)
Summer Pathways Program at Cornell University - due April 3!
Summer Pathways provides hands-on research training to undergraduates and recent graduates from underrepresented backgrounds who are interested in pursuing migration studies in graduate school.
We especially encourage you to apply if you are a first-generation student, regardless of your legal status.

LALS Spring Electives:
Sociology 139T: Community-based Research Practicum
We Belong Too: Youth Voices for Action and Equity
Tues/Thurs 3:20 - 4:55 in-person, Porter 144
Professor Steve McKay smckay@ucsc.edu
The Sociology and Psychology Departments, along with the new Campus+Community Center have launched an exciting, community-based research project centering Youth leadership and voice and we invite undergrads to participate. Our project, We Belong Too, is a collaboration with the Youth Action Network of Santa Cruz County, a network of Youth organizations that aims to shift the role of youth voice in the county so that they have a say in policies, practices, and procedures that affect them. YAN brings together youth and adults, especially from marginalized communities and/or communities of color, as these groups are disproportionately affected by current county-wide policies and practices.
LALS Faculty in the News!
LALS Assistant Professor Carlos Martinez interviewed in podcast: "What is Title 42?"
EVENTS
International Women's Day: Celebrating Feminist Scholarship from the Americas
Thursday, March 9, 2023, 1:30-5:00pm, Merrill Cultural Center
The Dolores Huerta Research Center for the Americas invites you to join us as we celebrate International Women's Day with keynote speakers Prof. Michelle Tellez and Prof. Esther Hernández-Medina. Together, they will help the audience explore the critical themes of resistance, survival, intersectionality, and reproductive justice in the Americas. Prof. Tellez's lecture is titled "Fronteriza Imaginaries: Women's Leadership in the Borderlands" and Prof. Hernández-Medina's lecture is titled "Take your Rosaries out of Our Ovaries:" the Fight for Women's Right to Choose in the Dominican Republic.
Merrill Cultural Center Schedule:
1:30p.m.-3:00p.m. ~ Dr. Hernandez-Medina, Pomona College
Discussant: Michelle Gomez Parra, PhD candidate in Sociology with emphasis in Latin American and Latino Studies
3:00p.m.-3:20p.m. ~ Break with light snacks
3:20p.m.-4:50p.m. ~ Dr. Michelle Tellez, University of Arizona
Discussant: Roxanna Villalobos, PhD candidate in Sociology with emphasis in Latin American and Latino Studies
Student Lobbying Conference - Registration due Friday, Feb 24!
The Student Lobby Conference (SLC) is an annual conference in Sacramento that brings UC students together for the opportunity to develop lobbying skills, learn more about issues affecting us as students, and California higher education policy. Your voices are needed so we can directly engage elected officials on these issues that are affecting all of our communities. SLC also offers the chance to network with UC students across the state, organize movements for specific issues, build relationships, and so much more.
SLC is free courtesy of the EVP Office, including lodging, transportation, and conference meals and fees. It will be held on Saturday, March 11th, to Monday, March 13th, and students will leave campus on Friday. There will be two days of workshops, networking, and training and we will lobby at the Capitol on the last day! 
Our office is currently accepting applications for student delegates to represent UC Santa Cruz. If accepted, you will be able to lobby on behalf of issues affecting students at UCSC and UC system-wide. Conference registration is open to all students, register for SLC here! The registration deadline is this Friday, February 24th 11:59 pm. When applying, please acknowledge that you may miss classes.
For any questions or concerns regarding SLC please contact Mitra at suavpe@ucsc.edu.
The Peggy & Jack Baskin Chair for Feminist Studies, in collaboration with the Indigenous Border/lands Collective Present:
The Indigenous BorderLands: An exploration of the border/lands from indigenous perspectives across the Americas
Date: Tuesday, March 9, 2023
Time: 4:00pm
Location: UCSC Cowell Ranch Hay Barn
Silent Speech, Migratory Gesture
Tuesday, March 9, 7-8pm @ University Center
Featuring History of Art and Visual Culture Professor Jennifer González
In this talk, Professor González will explore speech and silence in the history of art, with a special emphasis on the role of art as a form of political democracy
Architects of Abundance: Indigenous Regenerative Food Systems and the Excavation of Hidden History
March 13 @ 5:00 pm – 7:00 pm
Colonization is an issue of climate justice. Contrary to popular belief, Indigenous Peoples leveraged immense influence on their surrounding lands, fires, and waters in ways that could heal our planet today. Whether it's periodically burning grassland ecosystems with low severity fires to maintain habitat for deer, buffalo, antelope, etc, or building intertidal rock walls that catch sediment and warmer waters to expand clam habitat, native people have a number of innovative strategies for scaling habitat for edible plants and animals whom they often view as relatives.
Join us for a conversation with Dr. Lyla June Johnson as she translates this under-studied history to the contemporary world and highlights the connection between Indigenous land ethics, carbon sequestration, biodiversity augmentation, anthropogenic habitat expansion, and regional ecosystem connectivity. The success of these systems is believed to be due to their underlying value system of respect, reverence, responsibility and reciprocity.
RESTORING CONTINUITY: Notes on History and Fiction

Hayden V. White Distinguished Annual Lecture, featuring Juan Gabriel Vásquez
Guests who attend in person are invited to join us for a reception with light refreshments and beverages at 5 p.m.
6:00 - 9:00 p.m. at Bhojwani Room, University Center
In 1935, as Europe witnessed the rise of fascism, Paul Valéry tried to identify in a lecture the origins of the crisis. Things were better, he said, when people were able to understand their present moment as the result of past events, when "continuity reigned in the minds". In this lecture, Juan Gabriel Vásquez will discuss why that sense of continuity with the past is in fact indispensable, for individuals and societies alike, and he will suggest that fiction—the literary imagination of the historical past—might be uniquely adept at restoring it when it is broken.
Study Away:
Gilman Scholarship - deadline March 19!
Offers awards to Pell Grant recipients of up to $5,000 to help fund study abroad. An additional Critical Need Language Award of $3,000 is available to applicants who will be studying a critical need language abroad.
Deadline: March 19
Eco-Entrepreneurship in Costa Rica
Instructors: Nada Milijkovic, Crown Continuing Lecturer and Program Manager for Center for Innovation and Entrepreneurial Development, and Alexa Loken, Lecturer
Courses: Crown 92 Social and Creative Entrepreneurship (5 units, GE: PE-H) and Crown 94 Eco-Entrepreneurship (5 units, GE: PR-S), pending CCI approval
Internships and Jobs:
The Removal Defense Program from Catholic Charities Diocese of Monterey has developed several internship opportunities, and also has some full-time job openings. Below is a brief summary of the scope of work on the projects, how we envision interns assisting, the minimum commitment we require, and the resources CC can provide: 
1) Internship with ESAVN Program- "Enhanced Services for Asylees and Vulnerable Non-Citizens" LINK Through collaboration with county social service departments and CA Dept. of Social Services, we are; (1) conducting needs assessments, (2) tracking outcomes, and (3) connecting our clients to state social safety net funding-- funding that they would otherwise be ineligible for by virtue of their immigration status.  This program serves existing immigration clients of Catholic Charities who are in a long process of getting legal status on the basis of following types of cases; asylum petitions, having been a victim of a serious crime they helped to prosecute (U-Visa), or having been trafficked (T-Visa).
Student Intern Participation Since each case could represent multiple eligible family members, we need to assess and refer several hundred people.  Student interns would help by meeting with clients at our Watsonville office, where we will provide a confidential setting to conduct the needs assessment.  We will provide them with necessary documentation to show they are eligible, send them to the respective county for benefits, and follow up within a 90-day period to make sure they got the financial assistance and track their goal progress.
2) Internship with Unaccompanied Minor Legal Representation  (UUM) There has been a huge increase in our area of minors who migrated to the US unaccompanied by a parent or guardian.  We have a number of these cases but wish to increase the number of cases we accept.  For many of these minors, we will seek guardianship orders in Santa Cruz and Monterey County Superior Court or pursue asylum claims in immigration court.  There is a great deal of work to prepare the guardianship petitions, including necessary interviews with the minors, preparing them for home visits from county investigators, reaching out to family abroad to get statements, and preparing filings for court.  
We seek 2 interns who are able to commit to a minimum of 12 hours per week starting March 1st - July 31st, 2023
The placement will have to be onsite, CC will provide the workspace in our Watsonville office, trauma informed and culturally appropriate training, and supervision.
CC can provide documentation or reports needed to receive externship placement credit
Interested volunteers must complete a background check
Student Intern Participation
**Our program also has 2 open staff positions with our removal defense program.  These positions are 40 hours/week plus benefits. It is a great experience for a recent graduate from your department who may be considering a career in law, social work, non-profits, or other areas.  
We seek 1 intern to assist the Removal Program Manager (me) on the UUM caseload
I request the intern be able to work a minimum of 12-hours per week
This position has flexible work schedule with some travel to the Watsonville office required   
3) Full-time Staff Positions (40 hours/week, with benefits)
The position is linked below.   https://catholiccharitiesdom.org/wp-content/uploads/2022/11/2022-Immigration-Case-Specialist-Removal-Defense.pdf
Interested candidates can send their resumes to Cathy Flores : <cflores1@catholiccharitiesdom.org> 
LALS News: Oct 27th, 2022
Check out these profiles of Dr. Cinthya Martinez, UC Chancellor's Postdoctoral Fellow, and our new LALS Graduate Program Coordinator, Eric Sneathen!
Read about last week's beautiful and moving Dolores Huerta Research Center for the Americas 30th Anniversary Party and renaming, and our LALS student event with keynote speaker Cristina Jiménez.
You can also consider the origins and usage of Latinx and other terms along with LALS Chair Catherine Ramírez, who is quoted in The Washington Post's "A guide to how words like Latinx and Hispanic came about."
Events & Opportunites
LALS Upcoming Events: Undergraduate Research on Oct 31 & Book Club on Nov 2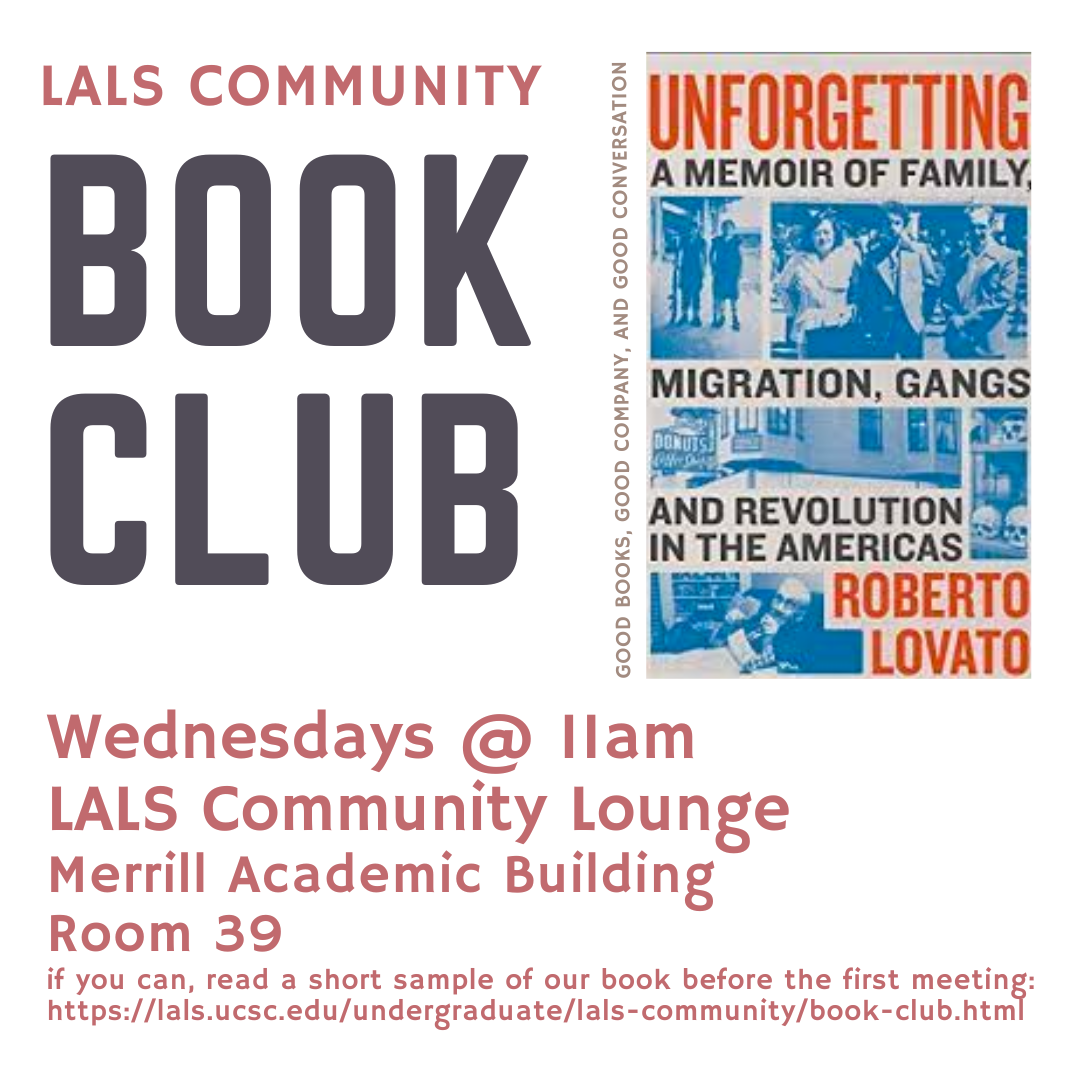 Download the book sample here. Free books provided for book club participants!
Dolores Huerta Research Center for the Americas presents
Tuesday, Nov. 1, 3:30pm-5pm
Location: Humanities 1, 210
*Charla en español*
"Historias de acción: Acción comunitaria frente al racismo en América Latina" con Natalia Barrera Francis"
Wednesday, Nov. 2, 4pm-5:30pm
Location: Humanities 1, 210
"Stories of Action: Community Activism in the Face of Racism in Latin America" with Natalia Barrera Francis
Career Success Events
Get Ready for the Graduate & Professional School Fair: How to Talk to Recruiters

Monday, October 31 from 12:00–1:00 pm
Creating a Plan for Your Pre-Health Journey

Tuesday, November 1 from 12:00–12:45 pm
Graduate & Professional School Fair

Wednesday, November 2 from 11:00 am – 3:00 pm
Thursday, November 3 from 11:00 am – 3:00 pm
In-Person at Stevenson Event Center
There will be various schools with programs in psychology, science, engineering, health professions, law, and more.
Study Abroad applications for 2023-24 are opening soon!
If you are thinking of studying abroad during the 2023-2024 academic year, get ready to apply! Applications for the following program type (and terms) open on November 1, 2022:
University of California Education Abroad Program (UCEAP)- summer 2023, fall 2023, academic year 2023-2024 Click Here to Explore Programs! 
Amah Mutsun Speaker Series
Intercultural Community Weekend - for College 9 and John R. Lewis Students
Not a College 9 or John R. Lewis student? Check out your college website to see what kind of programming they offer!
Indigethanx
Scholarships and Awards
$500 Scholarship for ABC students (first-year, second-year, and transfer students)

The purpose of this fellowship is to provide financial assistance to Black students who are pursuing higher education. To support our pilar of education, iRise is offering two (2) $500 scholarships. For your application to be considered COMPLETE, you must do the following: Register and attend The iRise Wellness Cheat Code Summit and complete the scholarship application. Scholarship applications open June 1st and close November 11, 2022.
UCOP-Black Staff and Faculty Organization (BSFO) Scholarship Application
The Black Staff and Faculty Organization (BSFO) at the University of California Office of the President will offer one or more scholarships of $1,000 to deserving African American and/or African-descent UC enrolled freshman or transfer students who previously participated in a University academic preparation program (EAOP, Transfer Prep, MESA, Puente, etc.). 
Application submission deadline: Friday, December 31, 2022. Application PDF