Researchers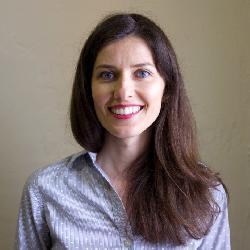 Title

Assistant Research Scientist

Division Social Sciences Division
Department

Latin American & Latino Studies

Phone
Email
Office Location

Merrill College Academic Building, 11

Merrill College

Office Hours By Appointment
Mail Stop Merrill/Crown Faculty Services
Summary of Expertise
Education research; developmental psychology research; research and educational policies related to English learners; survey methodology; multivariate statistical analysis.
Research Interests
Dr. Farkas's current work involves a mixed-methods research project, English Learner Achievement in Elementary School: Classroom Composition and Opportunity to Learn (Dr. Peggy Estrada, PI; Spencer Foundation, Lyle Spencer Research Award 201700044), which includes a small-scale experiment, classroom observations, and educator surveys and interviews. The project investigates whether manipulating English learner (EL) classroom composition policies (i.e., mixing ELs with other students vs. separating ELs into 100% EL classrooms) affects student outcomes, and if so, whether classroom opportunity to learn factors (e.g., instructional quality, classroom climate) mediate this relationship.
http://news.ucsc.edu/2016/12/english-proficiency.html
In her graduate work, Dr. Farkas investigated how traditional gender ideologies relate to negative outcomes for girls/women and boys/men in a variety of domains including education, future possible selves, and close relationships. Her graduate work also included qualitative and quantitative analyses of data from a large-scale, mixed-methods project investigating the role of educational policies in English learner reclassification to fluent English proficient, access to core content and achievement (Dr. Peggy Estrada, PI). At the UCSC office of Institutional Research, Assessment, and Policy, her graduate training included analyzing large data sets on numerous assessment research projects focused on university courses, student surveys, and student outcomes.
Biography, Education and Training
Timea Farkas is an Assistant Research Scientist in the Latin American and Latino Studies Department at the University of California, Santa Cruz. Her work focuses on educational, intrapersonal, and interpersonal outcomes at different stages of development including childhood, adolescence, and young and middle adulthood, viewed from multiple lenses, including gender ideologies and educational linguistic, instructional, and curricular placement policies and practices. Her current work focuses on K-12 English learner students. Much of this work is informed by her own experiences as a first-generation American from Romania's ethnically Hungarian region.
Dr. Farkas received her B.A. in Psychology from the University of California, Davis in 2006, her Master's in Human Development from the Graduate School of Education at the University of California, Berkeley in 2009, and her Ph.D. in Developmental Psychology from the University of California, Santa Cruz in 2016.
Selected Publications
Estrada, P., Wang, H., & Farkas, T. (2019). English Learner Classroom Composition and Academic Achievement: The Role of Classroom-Level Segregation, Number of English Proficiency Levels, and Opportunity to Learn. American Educational Research Journal, 1-46. https://doi.org/10.3102/0002831219887137
Leaper, C., Farkas, T., Starr, C. (2018). Traditional masculinity, help avoidance, and intrinsic interest in relation to high school students' English and math performance. Psychology of Men and Masculinities, 20(4), 603-611. http://dx.doi.org/10.1037/men0000188
Farkas, T., & Leaper, C. (2015). Chivalry's double-edged sword: How girls' and boys' paternalistic attitudes relate to their possible family and work selves. Sex Roles, 74, 220-230. https://doi.org/10.1007/s11199-015-0556-z
Farkas, T., & Leaper, C. (2015). The psychology of boys. In J. Wong & S. R. Wester (Eds.), APA Handbook of men and masculinities. Washington, DC: American Psychological Association.
Leaper, C., & Farkas, T. (2015). The socialization of gender. In J. E. Grusec & P. D. Hastings (Eds.), Handbook of socialization (2nd ed.). New York: Guilford.
Farkas, T., & Leaper, C. (2014). Is having an older brother or older sister related to younger siblings' gender typing?: A meta-analysis. In P. J. Leman & H. Tenenbaum (Eds.), Gender and development (Current issues in developmental psychology, pp. 63-77). New York: Psychology Press. https://psycnet.apa.org/record/2013-44006-004
Leaper, C., Farkas, T., & Brown, C. S. (2011). Adolescent girls' experiences and gender-related beliefs in relation to their motivation in math/science and English. Journal of Youth and Adolescence, 41, 268-282. https://doi.org/10.1007/s10964-011-9693-z
Teaching Interests
Research Methods