LALS Community Arts Project
Welcome to the LALS Community Arts Project!
LALS Advising hosted its first series of online community arts events in 2020-2021 with a generous grant from UCSC's Radical Resilience Initiative.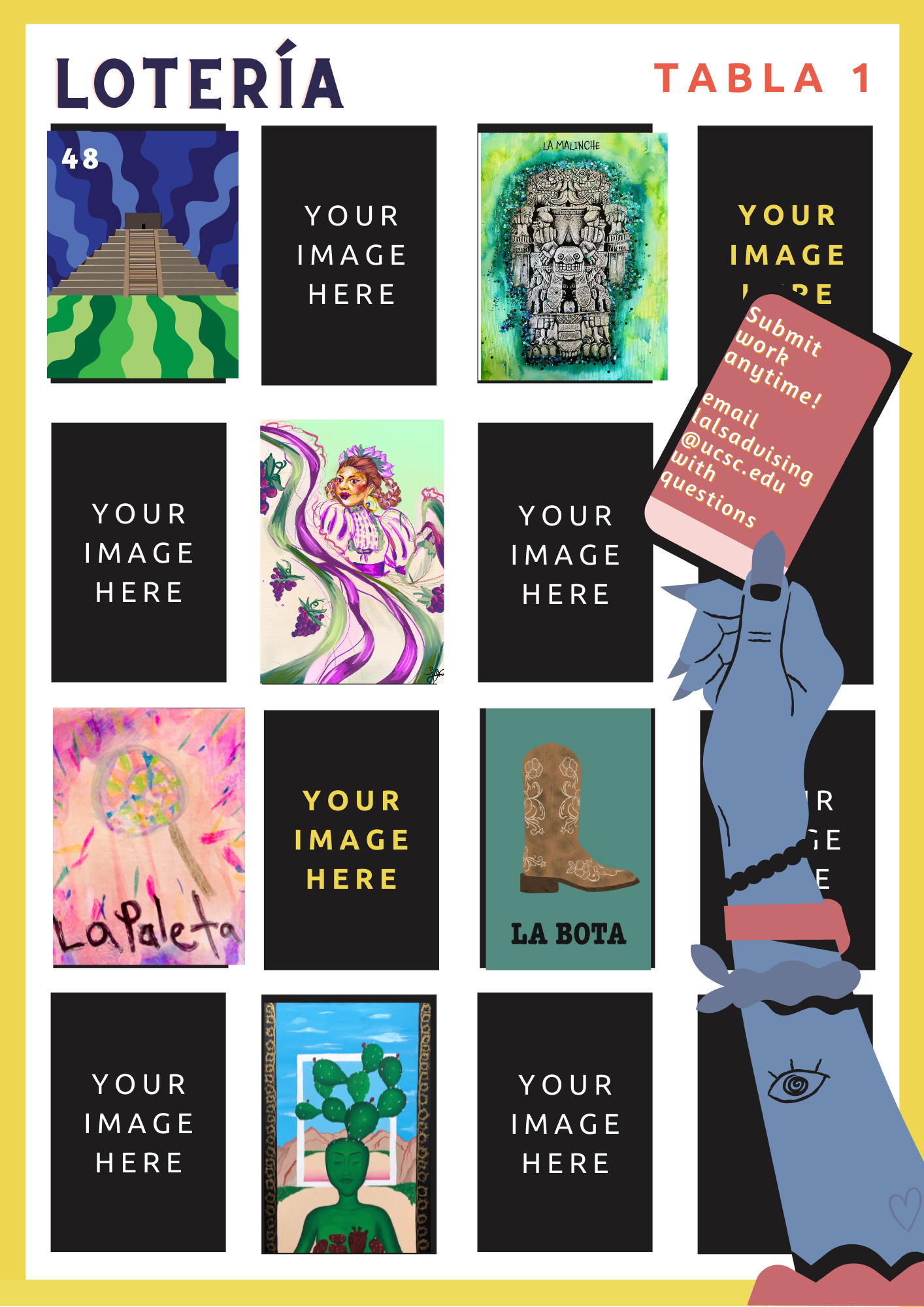 One of the original goals of this project was to create our own community Lotería game, with artwork designed by students, staff, and faculty (and anyone else who is a part of our community!). We hope you will consider submitting your own work.
Please contact LALS Advising with any questions.
Poster artwork by:
Montserrat Lopez former LALS Peer Advisor and co-creator of the LALS Community Arts Project
---
Esme & Lucia ("La Malinche" & "La Paleta")
---
Lorena Hernandez-Rivera ("Vista Alegre") I created this piece for my folklorico group on campus, Grupo Folklorico Los Mejicas de UCSC and it was a piece for a similar Loteria theme presentation for our 4th anniversary Spring Show. I really enjoyed learning the dances of Aguascalientes and was so happy to have found the connection between art, dance and my Mexican culture. Cheers to folks from Aguas! This drawing was a very fun one to create for my communities with LALs and Los Mejicas.
---
Diana Garcia
("La Bota Floral")
The inspiration for my work was from my own botas vaqueras. I grew up playing Lotería 24/7, so it was pretty cool to contribute to making one of our own!!
---
Yeli Daza
("Nopalerx") 
Nopalerx was inspired by "El Nopal" on the lotería cards and the phrase "Tienes el nopal en la frente." The piece takes back the negative connotation that's associated with this phrase, reclaiming the fact that "yes I look like I represent my heritage."